C-ATM Live Workshops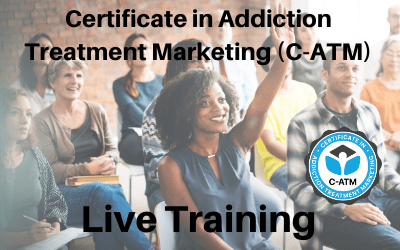 Interested in taking a C-ATM course in person?
Get the chance to take the C-ATM in a live setting, getting personal interactions with course instructors and up-to-date information.
When you register for any of the C-ATM live courses, your registration includes access to the online training course as well, so you can review the valuable information as often as you like.
Don't see a live course near you? Are you an organization that would like to provide the C-ATM on site for your employees? Contact us and we can work with you to provide you live training in your area.
Below is a list of our live workshop options. (If none are listed, it means we are currently not offering any live versions at the moment.)
Look at what live course participants had to say:
"Amazing presentation with very helpful information, very well put together and delivered well. I can't wait to get my C-ATM Certificate!"
"Very knowledgeable presenters. Totally relevant information for treatment executives, admissions reps, and marketers."
"Helped me to understand the legal ramifications of unethical practices."
C-ATM Live Course Participants
Hours
Monday - Friday
8:30 am - 4:30 pm Pacific
(closed major holidays)