Mergers & Acquisitions Services
Acquiring or selling a business, in whole or in part, is a complex and stressful process. There are many considerations in M&A work, and that is why sound experience can help you through the complexities of the deal.
Buyers need to ensure target firms fit their strategy, are reasonably priced, and will integrate effectively. Sellers focus on getting the best possible price -- and managing the business through the transition. BHAP's affiliate member Adaptive Health Capital will provide the deal sourcing, due diligence, acquisition integration, and other advisory services to assess risks and rewards and navigate transaction intricacies.
Webinar: Preparing to Sell Your Behavioral Health Program and What to Expect in the Process
On February 19, 2020, Adaptive Health Capital's CEO Hillel Kamionski co-presented a webinar on what to do when you are ready to sell your beavioral health program. This webinar is free to view.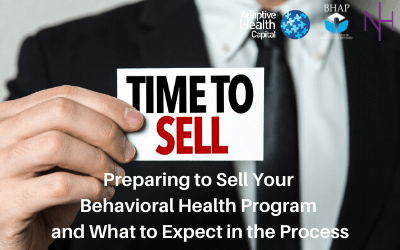 Selling your behavioral health program can be complicated, frustrating, confusing, and tremendously rewarding. Whether selling the operation, the assets, and/or the property, this webinar will teach you how to prepare for the process, what to watch out for, what areas to avoid, what areas to concentrate on, and how to help the process go smoothly.
Hours
Monday - Friday
8:30 am - 4:30 pm Pacific
(closed major holidays)