Webinar: The New Normal: Avoiding Trouble in Addiction Treatment and Behavioral Health Marketing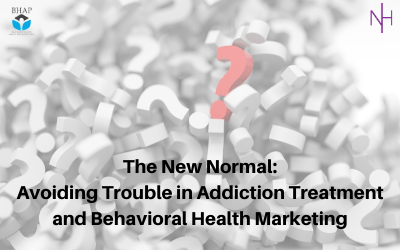 Date Recorded: July 9, 2020
Presenter: Harry Nelson
Length: a little over 54 minutes
Price: $50.00 (Members receive 15% discount)
Members Login | Join BHAP
Questions/Concerns: info@bhap.us | 888-958-2282
---
Over the past 24 months, the marketing landscape in addiction treatment and behavioral health has evolved steadily. Federal prosecutors have begun to enforce the Eliminating Kickbacks in Recovery Act (EKRA). Federal law enforcement has implemented new investigational strategies to combat behavioral health marketing fraud. State and local prosecutors have launched new campaigns to challenge practices they regard as fraudulent or abusive. Payors have expanded their coordination of strategies to address non-compliant marketing behaviors. The result is an emerging "New Normal" of evolving rules and practices.
This webinar details the evolution in enforcement efforts and prosecutions and lessons to take away from these developments for addiction treatment and behavioral health owners, operators and marketing personnel, as well as providers of related services, including physicians, mental health professionals, digital marketing professionals, call center operators, interventionists, and providers of recovery housing.
Areas of focus will be:
New laws and regulations emerging to challenge marketing practices regarded as problematic in addiction treatment and behavioral health;
Prominent federal prosecutions in addiction treatment, behavioral health, laboratories, and other areas of healthcare that reflect evolving strategies;
Examples of state prosecutions and payor investigations reflecting evolving approaches to marketing;
Review of specific potentially problematic marketing practices, including call centers, relationships with recovery housing providers, and potential inducement of patients with travel and waiver of cost-sharing requirements;
Recommendations for addressing problematic marketing practices.
Presenter
Harry Nelson
Harry Nelson is the founder and managing partner of Nelson Hardiman, LLP, as well as the chairman of Behavioral Health Association of Providers.
Beyond his legal expertise, Harry is known nationally as a consummate leader at the intersection of healthcare law and business, as evidenced by his role in co-founding five healthcare-related start-ups in the last decade. Deeply immersed in healthcare transformation and innovation; he frequently speaks on cutting edge issues and the future of the industry itself.