Webinar: Preparing to Sell Your Behavioral Health Program and What to Expect in the Process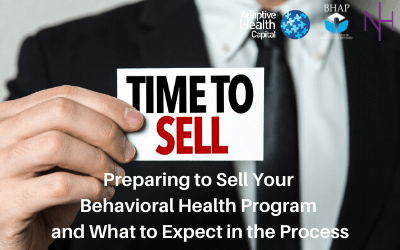 Date Recorded: February 19, 2020
Presenters: Hillel Kamionski and Harry Nelson
Length: a little under 59 minutes
Price: free
Questions/Concerns: info@bhap.us | 888-958-2282
---
With turbulent times comes tremendous opportunity to sell your business, package a roll-up, or to acquire a business for sale. For many, the past few years has been lucrative and owners may be interested in cashing in on all their hard work. For some, difficult financial times have forced the evaluation of the sale of the business.
Either way, selling your behavioral health program can be complicated, frustrating, confusing, and tremendously rewarding in the end. Whether selling the operation, the assets, and/or the property this workshop will teach you how to prepare for the process, what to watch out for, what areas to avoid, what areas to concentrate on, and how to help the process go smoothly. There is a rule of thumb in the sale of a business: the deal will crash at least three times before success is achieved.
You can help improve those odds by learning about packaging your business and how to properly evaluate potential buyers. If you are thinking about selling, acquiring or merging your business, this workshop is for you.
Presenters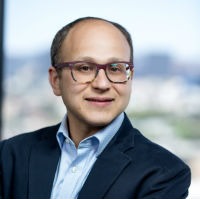 Nick Jaworski
Hillel Kamionski is Chief Operating Officer and Chief Financial Officer of Adaptive Health Capital. He is an industry veteran with an extensive background in financial analysis, accounting, operations, compliance, and client development.
Prior to his work with the fund, Hillel served as Controller for ALJ Capital Management for five years, where he led both the mid and back office functions. Prior to joining ALJ Capital in 2012, he worked at Kayne Anderson Capital Advisors where he managed financial and accounting responsibilities for hedge funds, private equity, managed accounts and limited partnership investments. Hillel started his career at Grant Thornton as a member of the financial service audit practice.
Harry Nelson
Harry Nelson is the founder and managing partner of Nelson Hardiman, LLC, as well as the chairman of Behavioral Health Association of Providers.
Beyond his legal expertise, Harry is known nationally as a consummate leader at the intersection of healthcare law and business, as evidenced by his role in co-founding five healthcare-related start-ups in the last decade. Deeply immersed in healthcare transformation and innovation; he frequently speaks on cutting edge issues and the future of the industry itself.
Webinar: Preparing to Sell Your Behavioral Health Program and What to Expect in the Process
Please remember that this webinar is for your own use: we request that you do not embed the video on a website or share with others.